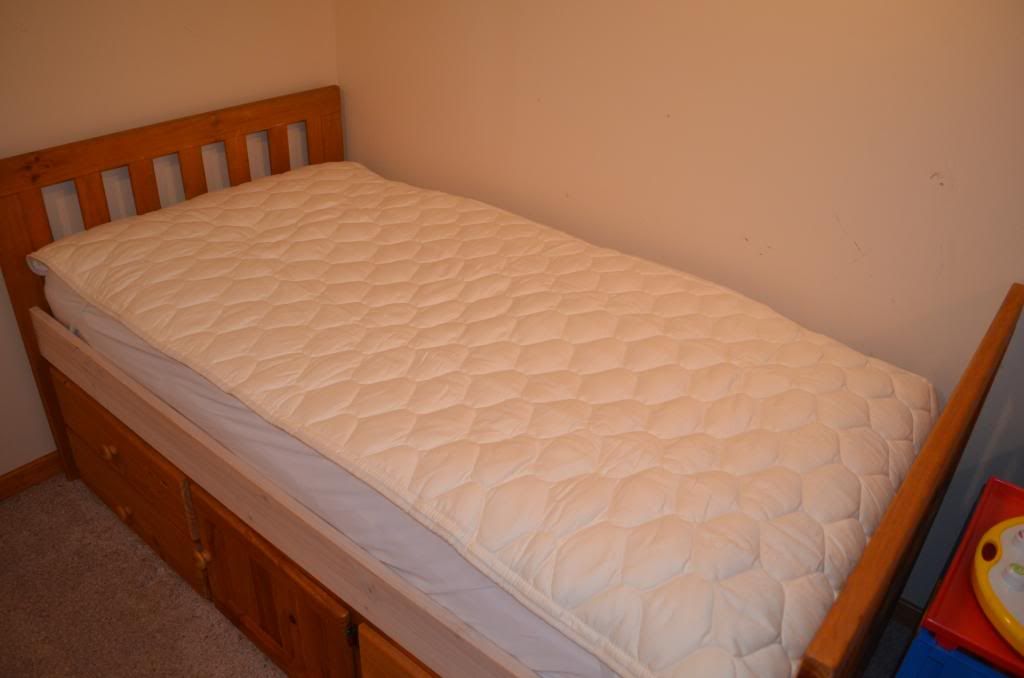 If money weren't an option I bet almost everyone would love to own an organic mattress for their child. But, unfortunately, money is a big deciding factor that determines if a parent buys an organic mattress or not. An organic crib mattress from Naturepedic starts at $259 and goes up to $399 depending on which one you choose. A twin size organic mattress from Naturepedic starts at $649. I know that an organic mattress is worth the investment, and, if I had the money I would absolutely spend it on an organic mattress for my boys. But – like a lot of families out there - I just can't afford to do that. I was able to review the Naturepedic organic quilted mattress pad which is a great alternative to an organic mattress if you can't afford one. It is almost like adding a pillow top to your mattress by adding some extra cushion and absorption. A twin size is only $139 and provides a layer of organic cotton between the mattress and your child. They also come in a full size for $179 and a queen size for $219. They do not make covers for crib mattresses. The mattress pad is made of organic cotton and has a PLA (aka polylactide) fiber filling. PLA is a new type of polyester derived entirely from plants (primarily corn and potatoes). You can find out more about PLA here. The organic quilted mattress pad is not waterproof but it can be machine washed and dried.
All of Naturepedic's products are made in the USA. Naturepedic specializes in the design and manufacturing of quality organic mattresses for infants, toddlers, children and adults that promote natural and organic materials, a non-toxic design, fire-safety, and overall health & safety. I really like that they specialize in one thing and do it very well versus having a ton of different "okay" products. They are truly an amazing company with great products and amazing people behind those products. The company was founded by Barry A Cik after looking for a suitable mattress in anticipation of first grandchild. When he couldn't find a suitable mattress he, together with his two sons, founded Naturepedic. Naturepedic understands the harm that can come from toxic chemicals and allergenic materials, and is dedicated to the continual development of innovative high quality products that eliminate these risks. Naturepedic carries the most awards and endorsements of any children's mattress company, as well as the best warranty in the industry. The warranty is up to 20 years on some mattresses as long as you are the purchaser and remain the owner of the mattress the entire 20 years.
My personal experience with the organic quilted mattress pad is that it is super comfortable to lay on, even without anything over it. It is soft to the touch and slightly cushioned. It is easy to put on and remove from the mattress because of the straps that hold it to the mattress. It does hang over my sons mattress a little bit but when I put the sheet over the pad and mattress it is held down well. The straps also keep it put on the mattress – even with my son jumping or playing on the bed the mattress pad stays put. I find that it is a tight squeeze in my washer – but it did fit and washed fine. The only real con I can say about the mattress pad is that it isn't waterproof. Other than that, it is perfect.
A baby or small child can spend a big chunk of their day sleeping or playing in their bed so buying an organic mattress is definitely worth it, but if you can't afford to do that, I highly recommend looking into a organic quilted mattress pad from Naturepedic. Definitely check out Naturepedic if you are looking for a mattress or mattress pad

for your child or even yourself.
Don't forget to check out my video review where you can see the organic quilted mattress pad a little closer up.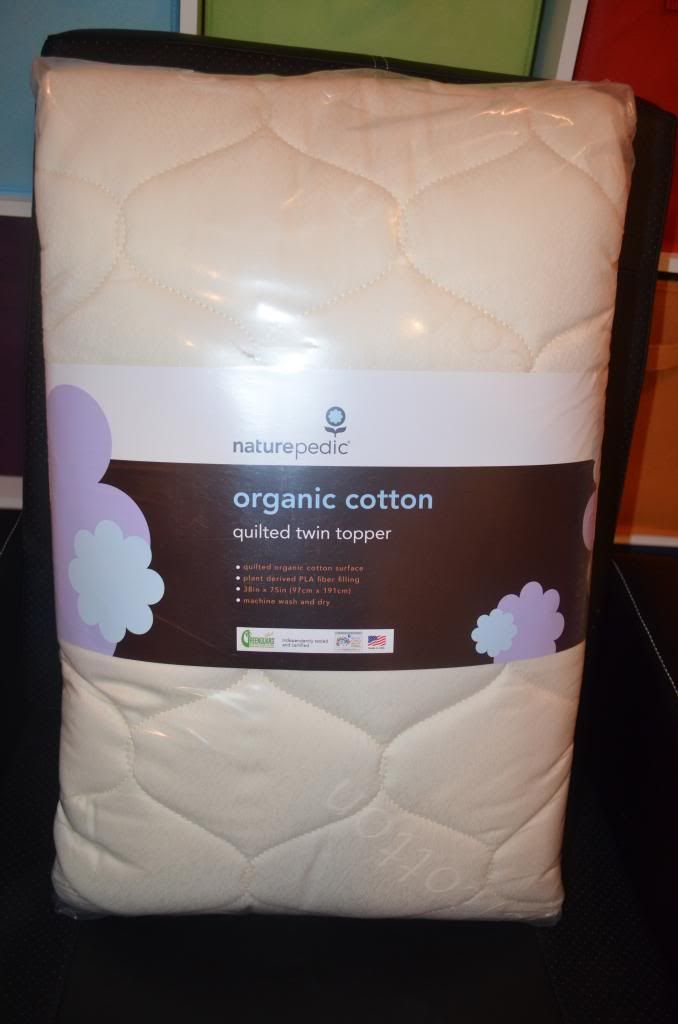 I received no compensation for my review other than a free sample of the product from Naturepedic.